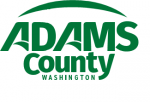 Adams County
About the Company
Adams County spans 1,925 square miles of southeastern Washington in the semi-arid shrub-steppe region of  Washington State, surrounded by neighboring Grant, Lincoln, Whitman, and Franklin Counties.  Adams County is where the channeled scablands meet the Palouse region.
Adams County's two most populous cities are Ritzville and Othello. Ritzville is located in the northeastern corner of the county at the junction of I-90 and US 395, making it a popular stop for travelers. Ritzville is an hour's drive from Spokane. Ritzville is the county seat and all elected governmental county services are located at 210 W. Broadway.
In Othello, located in the southwestern corner of the county, State Routes 26, 17, and 24 converge. Othello is an hour's drive away from the Tri-Cities region, and a half hour drive to Moses Lake.  Othello sees steady growth due to irrigation available from the Columbia Basin Project. Othello Public Services Building houses the Building and Planning and Integrated Health Care departments at 425 E. Main St.
The county is known as one of the state's agricultural and livestock ranching focused regions. Wheat, corn, apples and potatoes (among several other crops) are grown annually here.
Today, Adams County is one of the largest wheat producers in the state. Eastern Adams County is mostly dryland crops – wheat, canola, camelina, sunflowers, etc. The western portion of the county, known as the 'panhandle" is far more diverse agriculturally thanks to the presence of canal irrigation. Around Othello, a diverse selection of fruit and vegetable crops are raised.