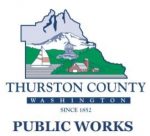 Thurston County Public Works
About the Company
The Thurston County Public Works Department, located in Olympia, Washington is a national award-winning agency in delivering quality projects to our community.  Our mission is to provide quality public services in all areas of our business.  We actively help our staff develop and grow professionally, we bring together resources across divisions to achieve organizational goals, we are always ready to respond to community needs, and we are an American Public Works Association accredited agency, consistently meeting industry best practices benchmarks.
Our Core Values:
Accountability – We take responsibility for our actions and the resulting outcomes.
Customer Service – We provide our customers with the highest level of service and quality.
Innovation – We strive to continuously improve processes, performance, and results.
Safety – We demonstrate an uncompromising commitment to safety.
Teamwork – We work together toward achieving a common recognized end.
Thurston County Public Works values the diversity of the people it hires and serves. Inclusion to us means fostering a workplace in which individual differences are recognized, appreciated, and responded to in ways that fully develop and utilize each person's talents and strengths.  We are dedicated to recruiting and developing a talented workforce from various cultures, lifestyles, backgrounds, and perspectives who are committed to our vision and core values.
What we offer our employees:
Work-Life Balance: We are committed to ensure that our staff experience the reward of public service, while also sustaining a routine that suits each individuals' lifestyle.
Plan For Your Future: As a member of our team, you will enjoy great employee benefits, including a retirement plan, pre-tax savings accounts, as well as comprehensive health care and dental/vision care for you and your family.  Please visit Benefits 2022 Thurston County Employee Benefit Plans website for more information.
Paid Leave: Full-time regular employees earn a minimum of 12 paid vacation days per year in addition to 11 paid holidays.
Robust Training Program: Employees are encouraged to attend County paid training to help them further their career, learn new skill sets, and stay on top of emerging trends in our industry.  We also encourage our staff to participate in professional organizations and attend conferences.
Flexible Work Schedules:  Some of the options that employees may take advantage of include alternative or compressed schedules and/or remote working.
Deferred Compensation: The County offers 3 voluntary deferred compensation plans for employees who would like to set aside additional deferred tax dollars into a retirement savings plan.
Flexible Spending Account (FSA): Employees can take advantage of Section 125 flexible spending accounts for out-of-pocket health care and daycare expenses with pre-tax dollars.
Public Service Loan Forgiveness:  This is a federal program which allows full-time public service employees who have made 120 qualifying payments for certain loans, to get their student loans repaid.  Public Service Loan Forgiveness Program