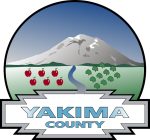 Yakima County
About the Company
Yakima County has approximately 1,000 employees and over 40 departments which support a variety of services to the public.
EXAMPLES OF POSITIONS
General Help
Administrative: Clerical & Programs
Financial
Appraisal
Information Technology
Legal
Law Enforcement
Social Services
Community Development
Trades: Facilities, Utilities, Maintenance
And Operations – Roads / Solid Waste
Natural Resources
Engineering
Management
YAKIMA COUNTY BENEFITS
The County offers competitive wages and excellent benefits including:
·         Paid Time Off (PTO) leave plan which may be used for vacation, personal illness, or other personal reasons.
·         Paid Holidays
·         Comprehensive Health and Life Insurance Plans which include medical/dental/vision benefits. The County pays a set amount of the cost of the employee's premiums based on collective bargaining agreements.
·         Flexible spending accounts (FSA) for healthcare and childcare reimbursements.
·         Health Savings Accounts (HSA)
·         Health Reimbursement Accounts (VEBA)
·         Voluntary benefits including, but not limited to Short and Long-Term Disability, Term Life Insurance, Critical Illness, Group Accident Insurance, etc. These benefits, offered at a group rate, are paid for by you.
·         Retirement programs are through the Washington State Department of Retirement Systems.
·         Deferred Compensation Plans – Employees may participate in a tax-sheltered plan sponsored by the County and may defer funds from their pay checks not to exceed an amount set each year by the Internal Revenue Service.